Our nursery is almost complete! All we're missing is little Finn! Here's a little peek into the decor! I wanted to keep things neutral with little splashes of blue so it would be a calm and serene place to sleep. I did a vintage French country style to keep in line with the
rest of my house
. Hope Finley loves it!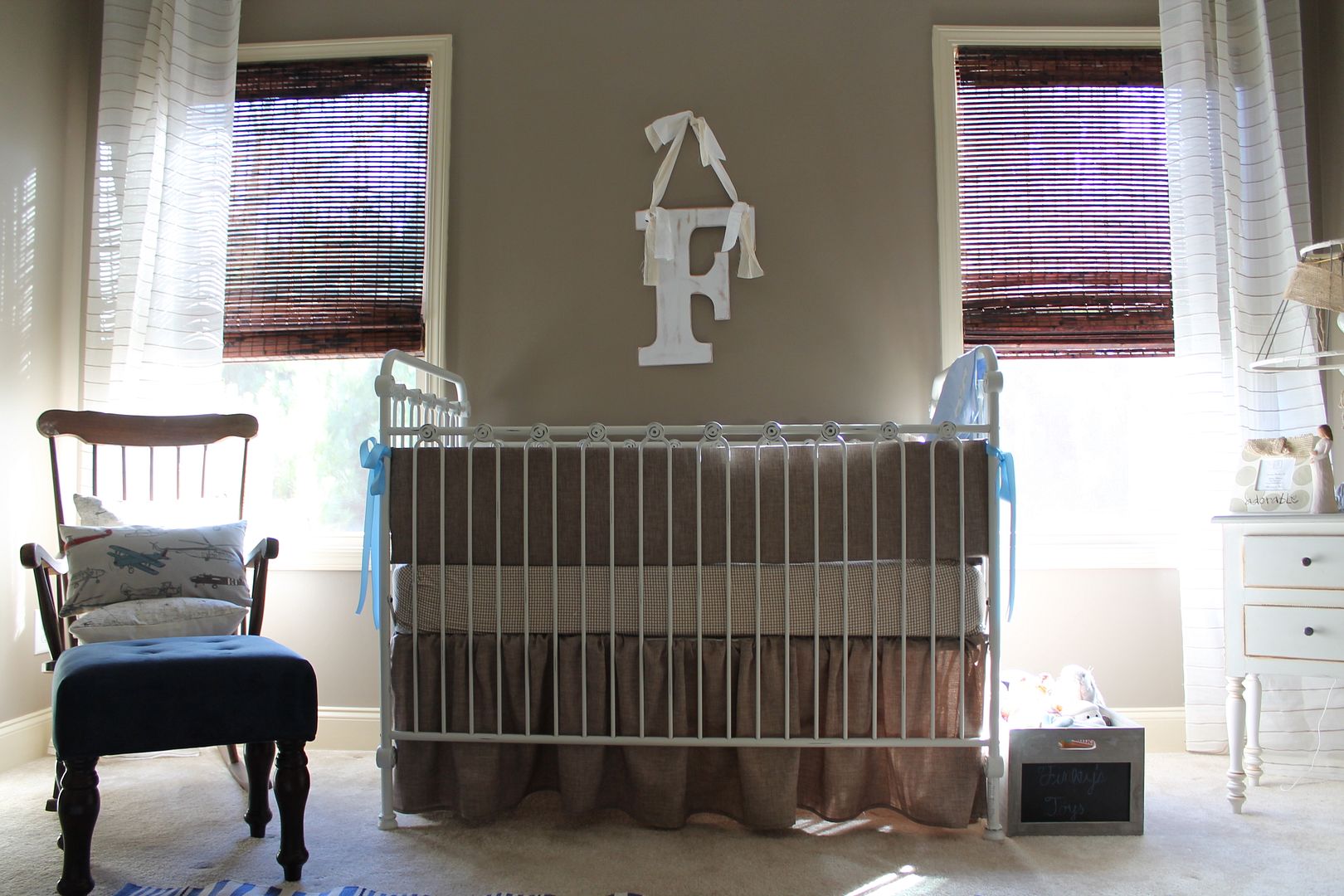 The baby crib is from
Bratt Decor.
A Facebook friend of mine had the same one and I just fell in love and had to have it. It was such a nice gift from my parents. Wall color is Valspar's Toll Booth. It's a great brown-grey color. The curtains are from
World Market
and have a burlap jute stripe in them which I love! My mom found the "F" at a craft trade show in Birmingham.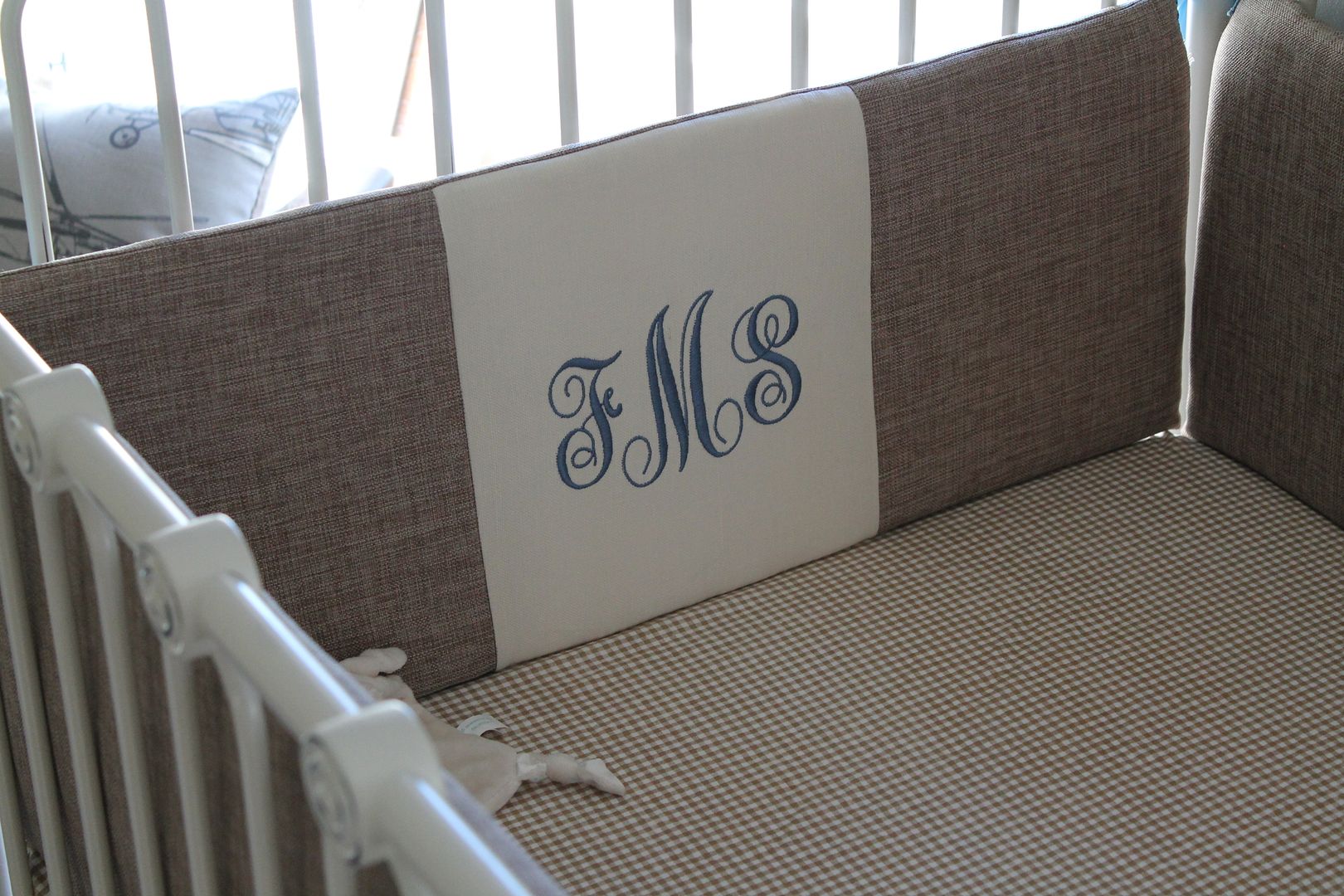 I made the bumper pads and crib skirt myself using one of my favorite brown linen fabrics. Yes, he will definitely learn his initials quickly! I went a little monogram crazy! The crib sheets are
Carter's
baby bear collection. (Gotta represent my company!!)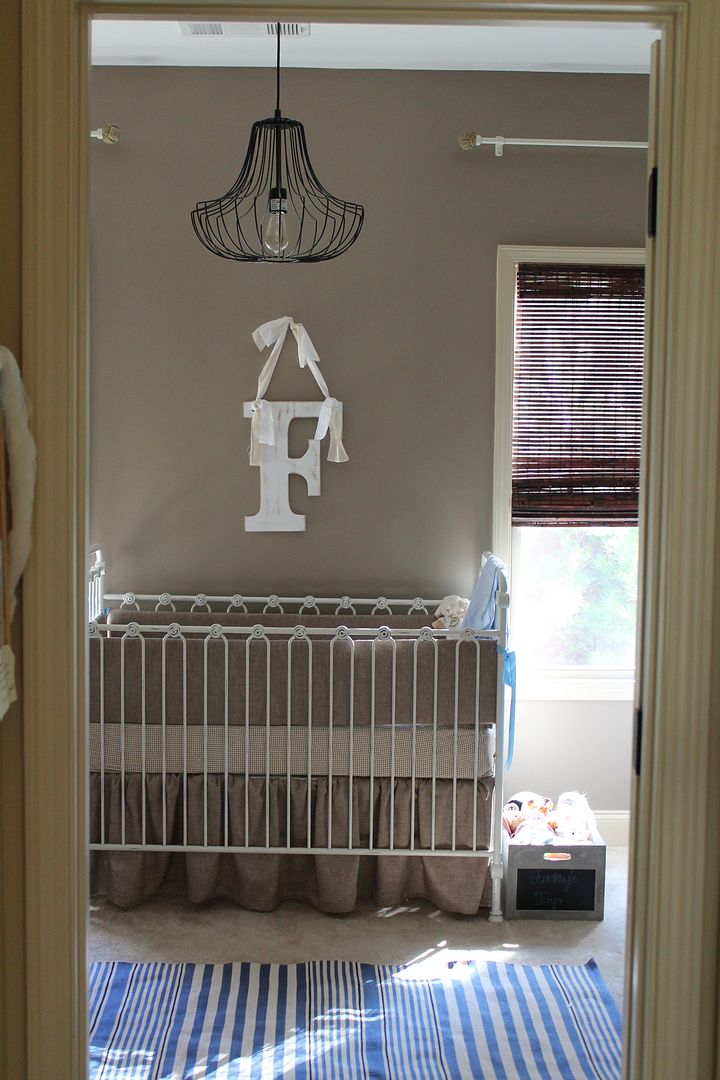 The bamboo blinds are
Levelor
from Lowe's. You can have them cut to custom size right in the store.The curtain rods are Allen and Roth from Lowe's. I love the ball of jute on the ends. Matt and I picked up the blue stripe rug while on our
babymoon in Savannah
.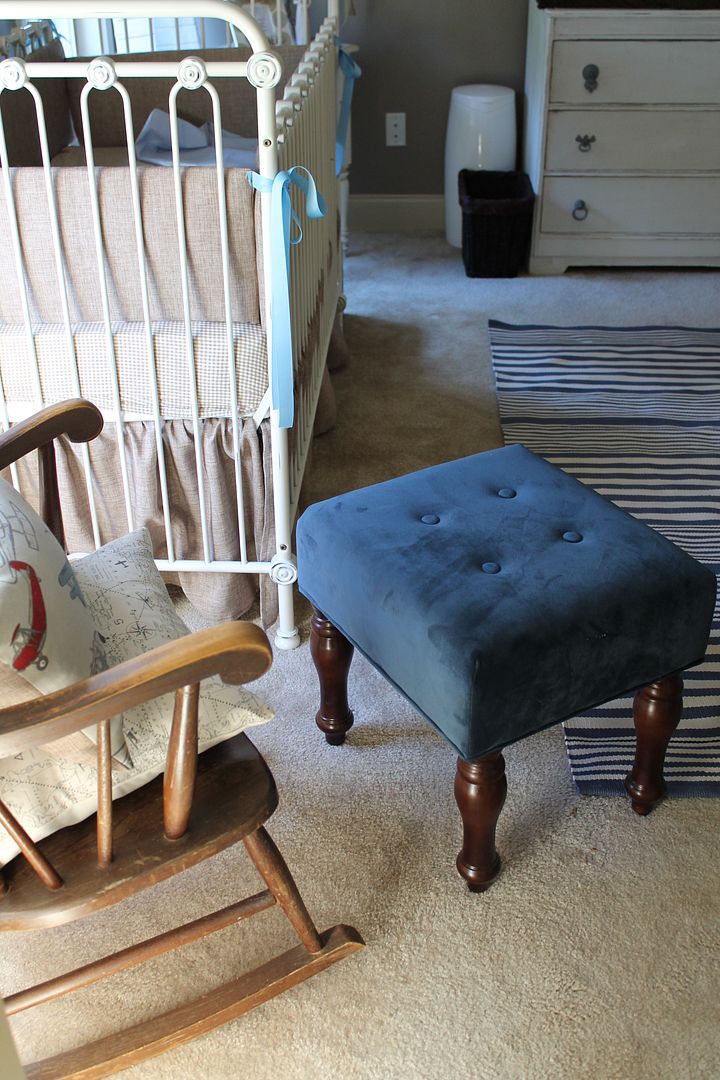 This rocking chair is a family heirloom passed to me from my grandmother. How neat is that?! I made cushions for it with little airplanes on them. We got the blue ottoman at
Target
.
I love this deconstructed lamp shade I found at
Encore.
The sweet Willow Tree pregnant girl was a gift from my friend Megan.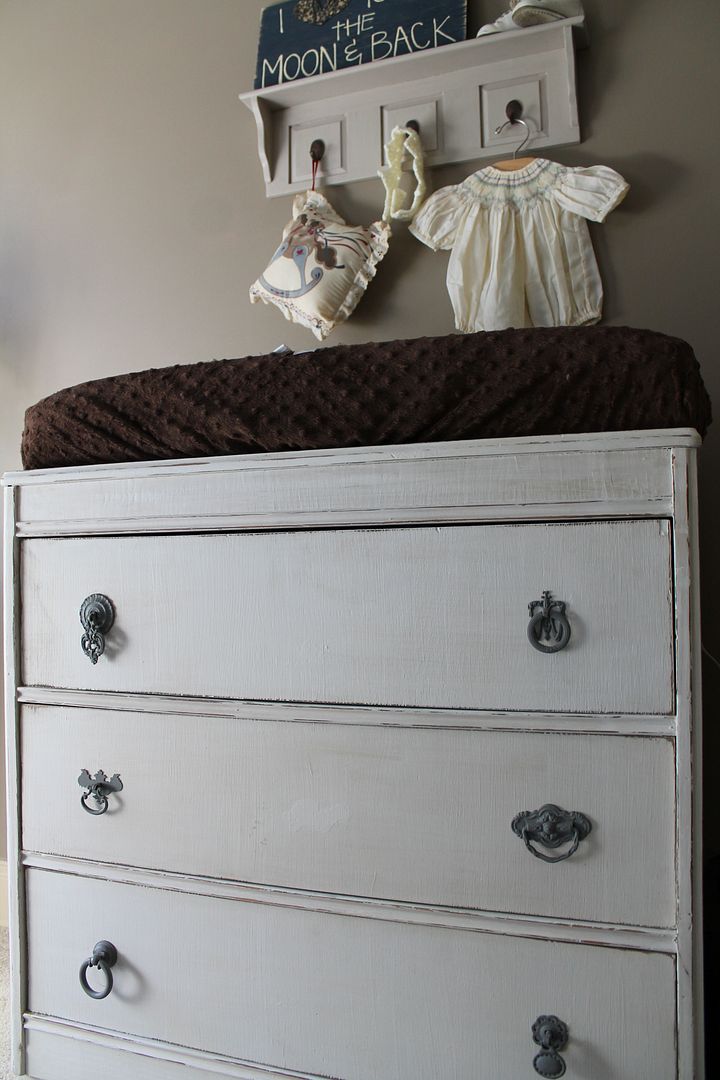 The changing table is also from
Encore
. It's just a dresser that we attached a changing pad to. I love the mismatched knobs. The drawers are great for storing diapers and wipes! Matt even drilled a small hole in the back so we can keep the wipe warmer in the top drawer. On the shelf above I hung a precious bodysuit that my mom smocked for me when I was little. The little rocking horse pillow plays music, and it was in my nursery as a baby.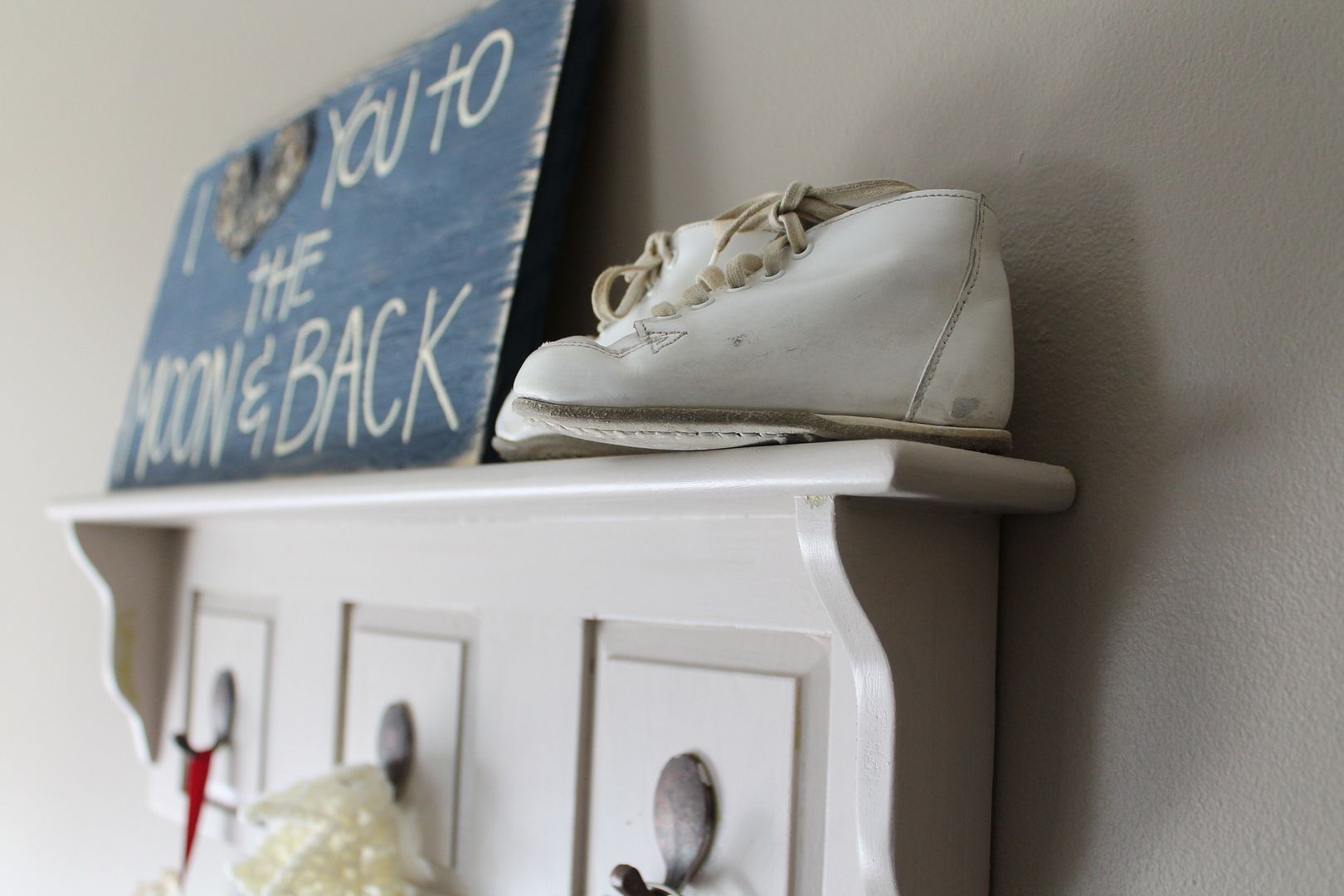 The sweet little shoes were Matt's! My mom found the cute "I love you to the moon and back" sign from a craft show in Birmingham.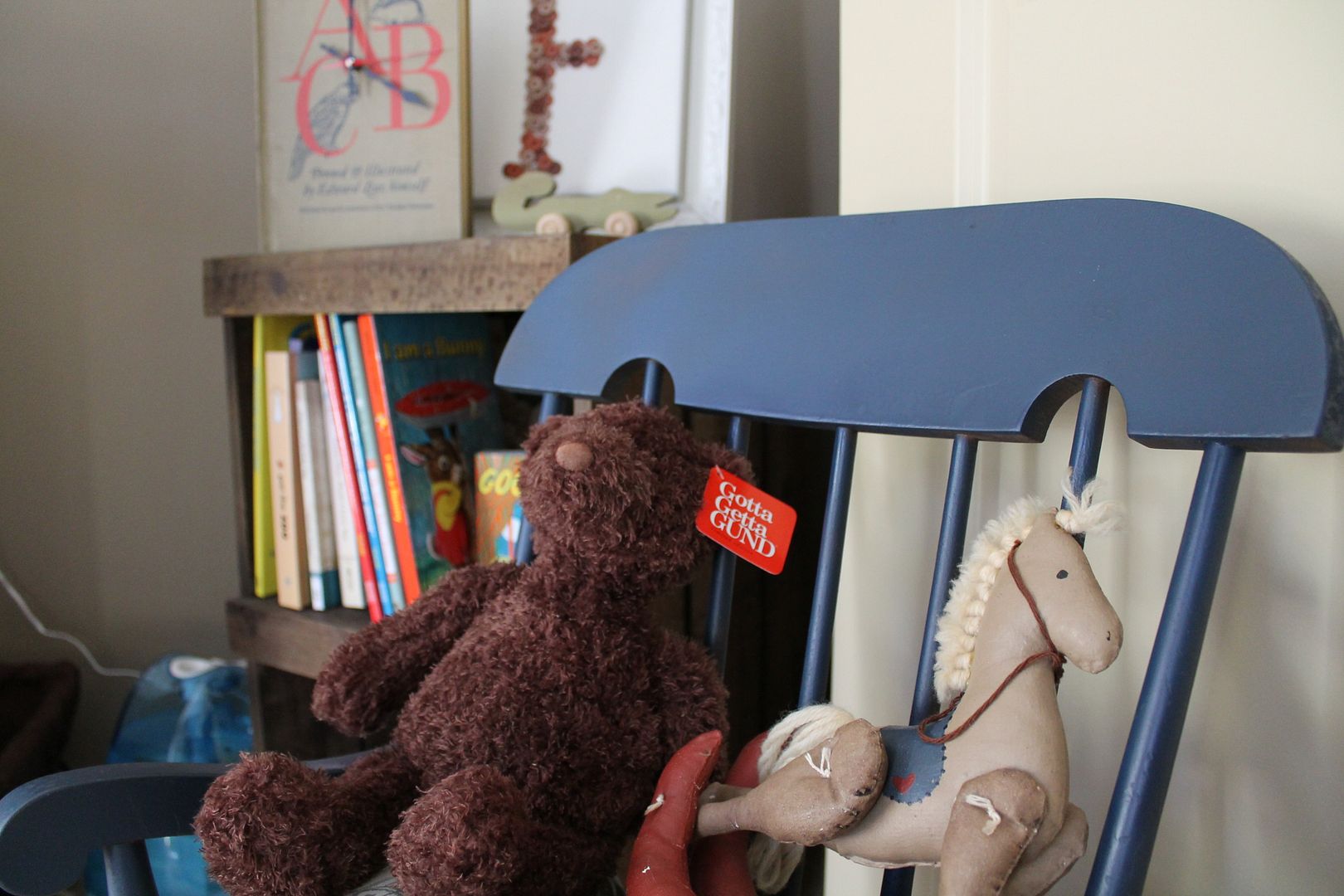 I used one corner for a little book nook for Finn. I hope he grows up loving to read books! The little rocking chair was used by Matt's dad and Aunts and they so graciously passed it down to me. I spray painted it blue. The rocking horse was use in my nursery and the teddy bear was a sweet gift.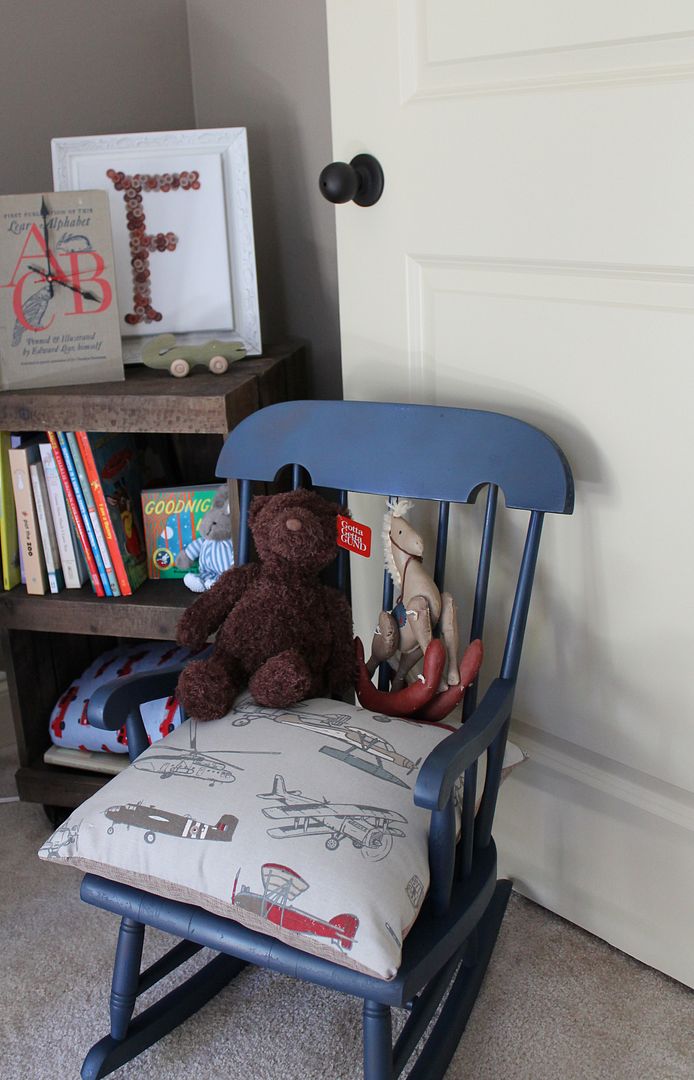 I made the little airplane pillow. The book shelf crate is from World Market. I love the book clock that Aunt Brittany got for me in LA. The button "F" was shower decor made by our friend Robyn.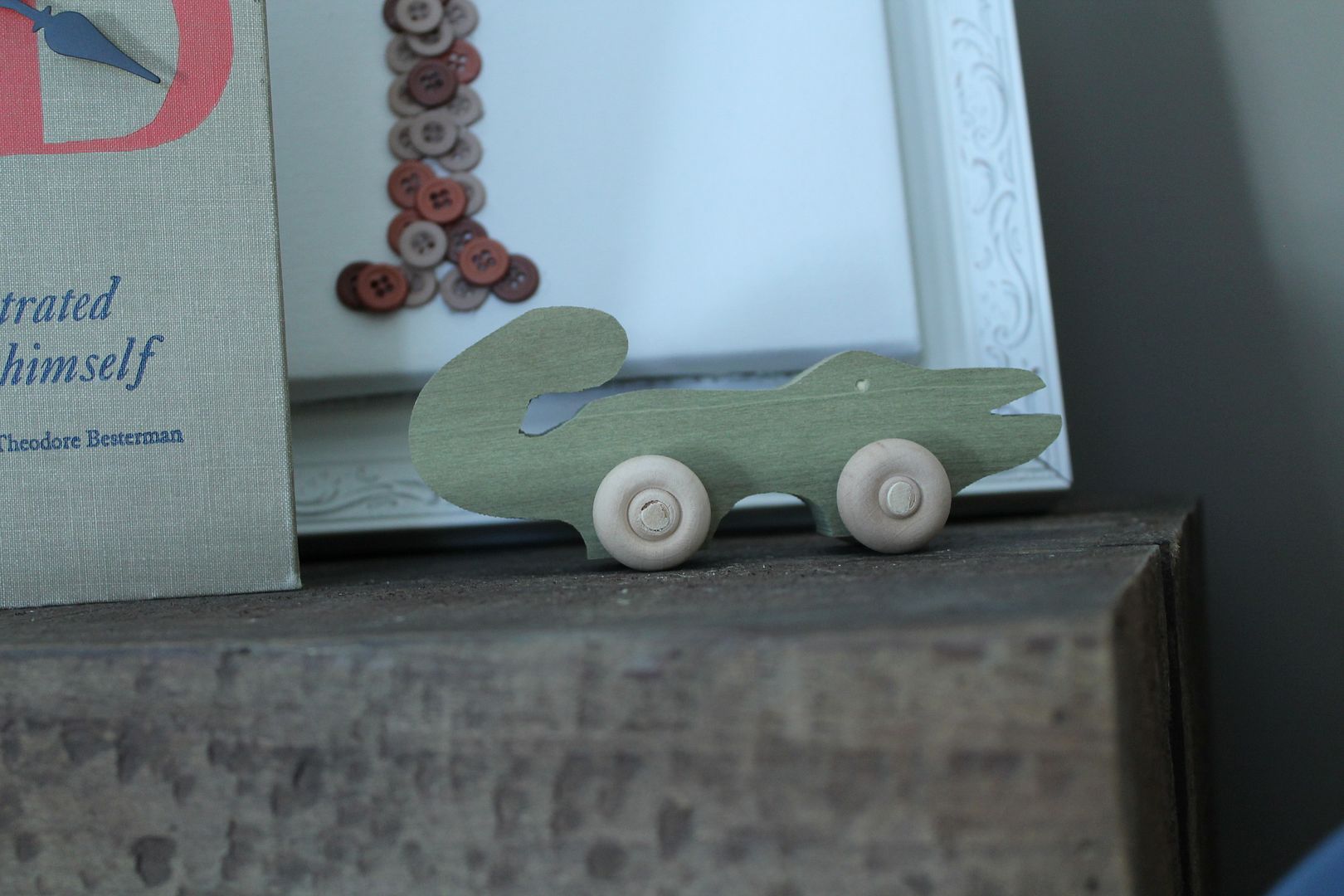 Cute little wooden crocodile toy from Matt's mom. It's all natural and locally made.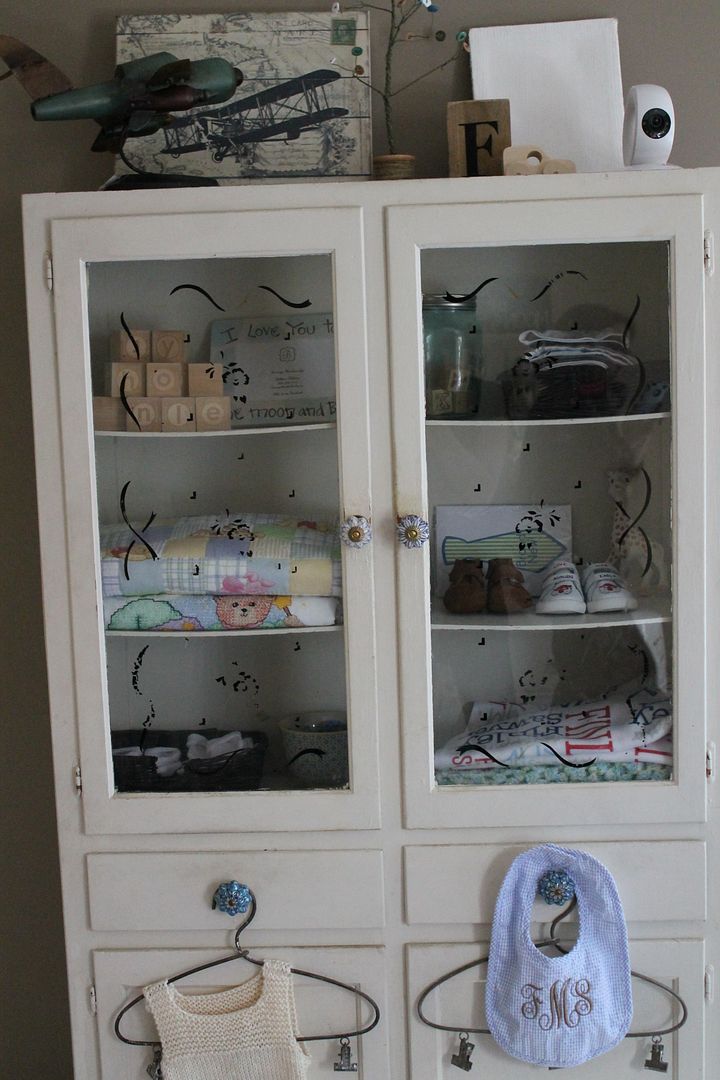 This china cabinet was my great grandmothers. I was originally using it for sewing storage, but now it makes an excellent baby cabinet. I just changed out the knobs from pink to blue! Found these cute knobs at
World Market
.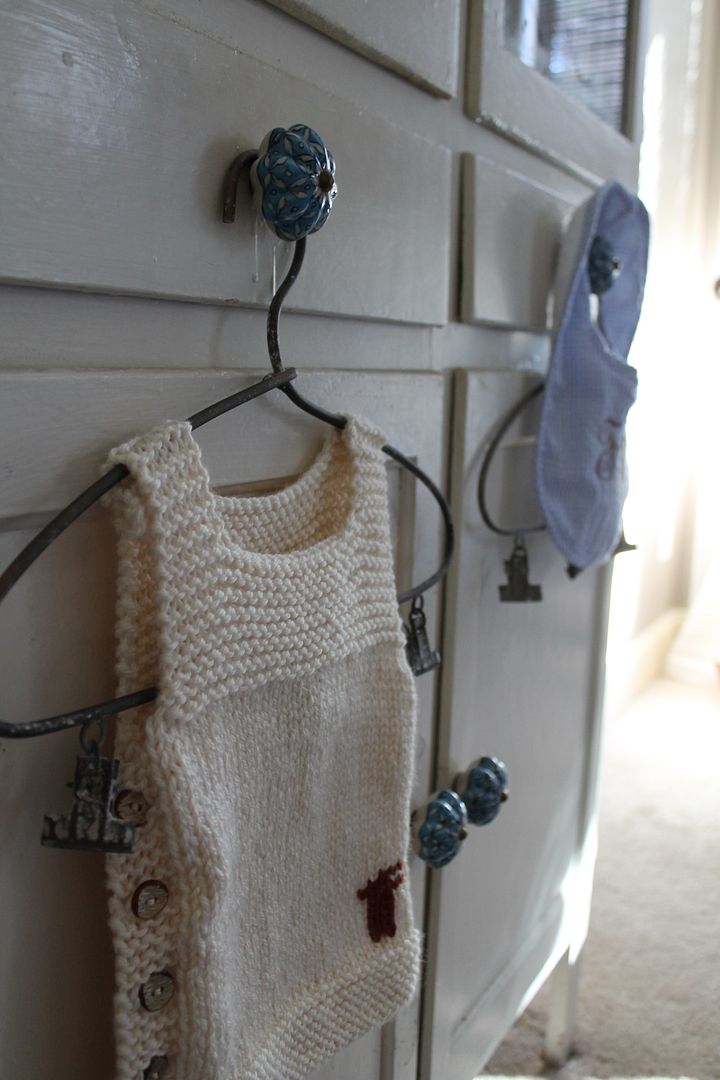 I just die over this hand knitted vest made by my mom's friend Cindy. The buttons are vintage!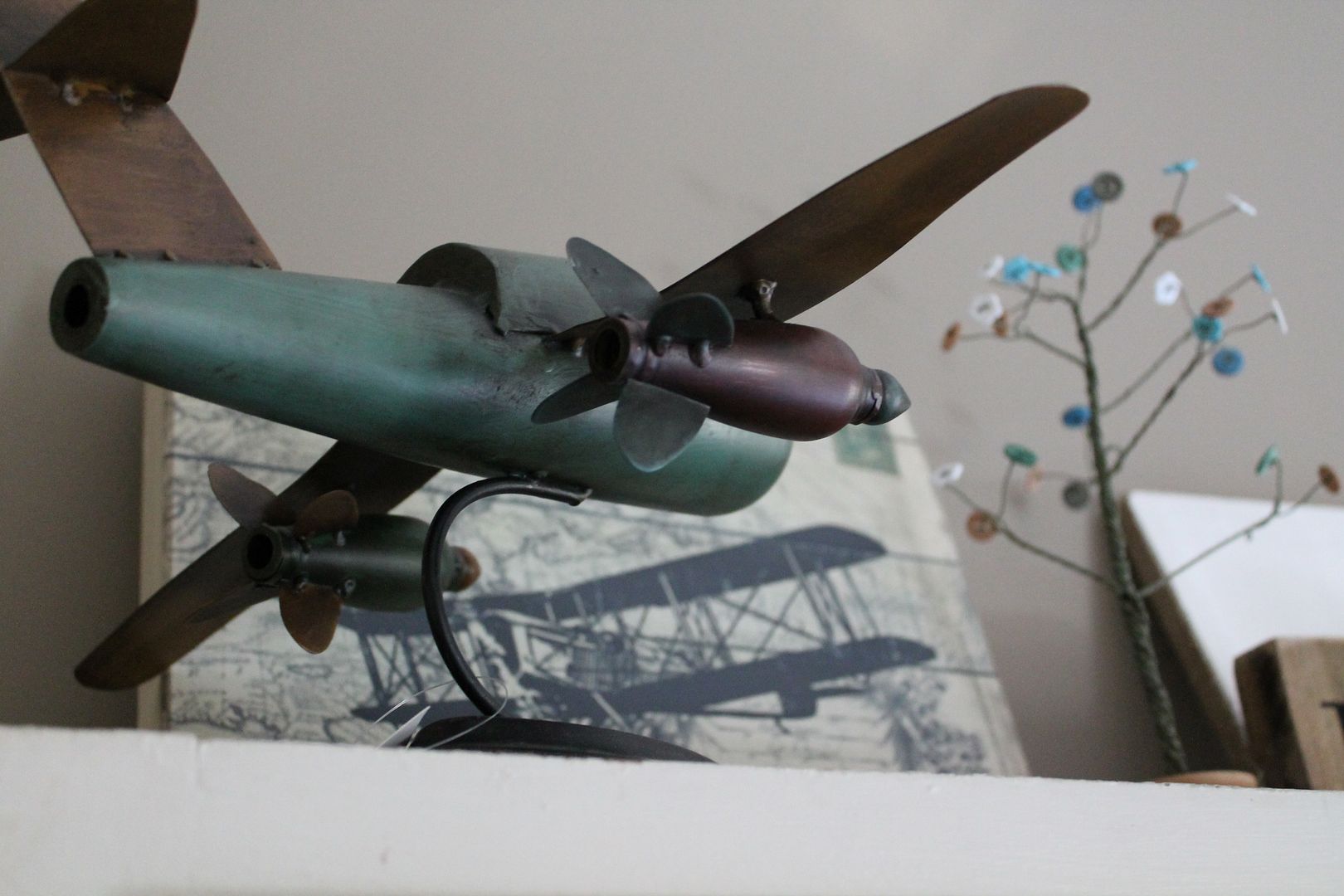 Cute little airplane and airplane painting are from Home Goods. They were one of our first nursery purchases once we found out we were having a boy!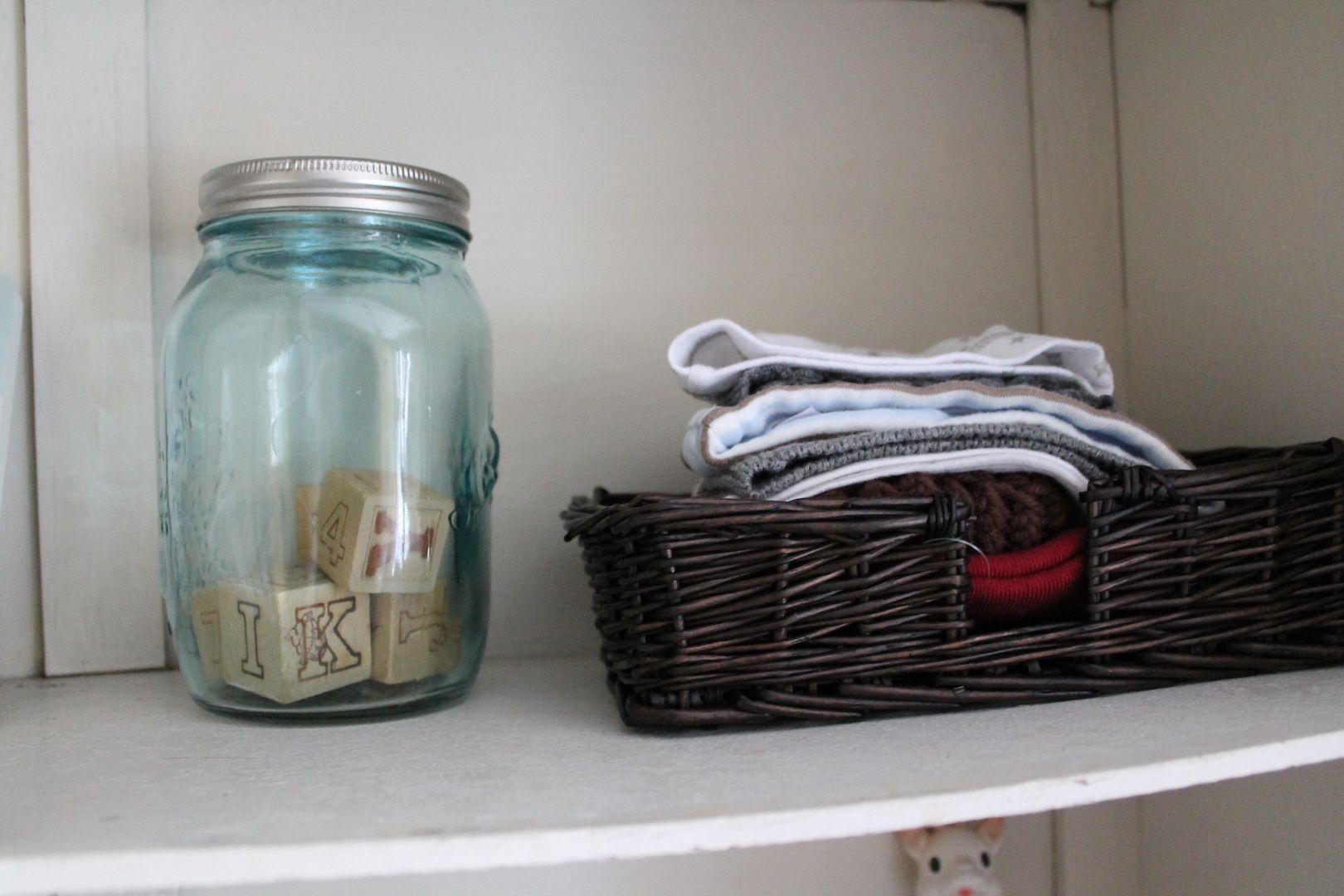 Mason jar to store blocks. Little basket to store hats.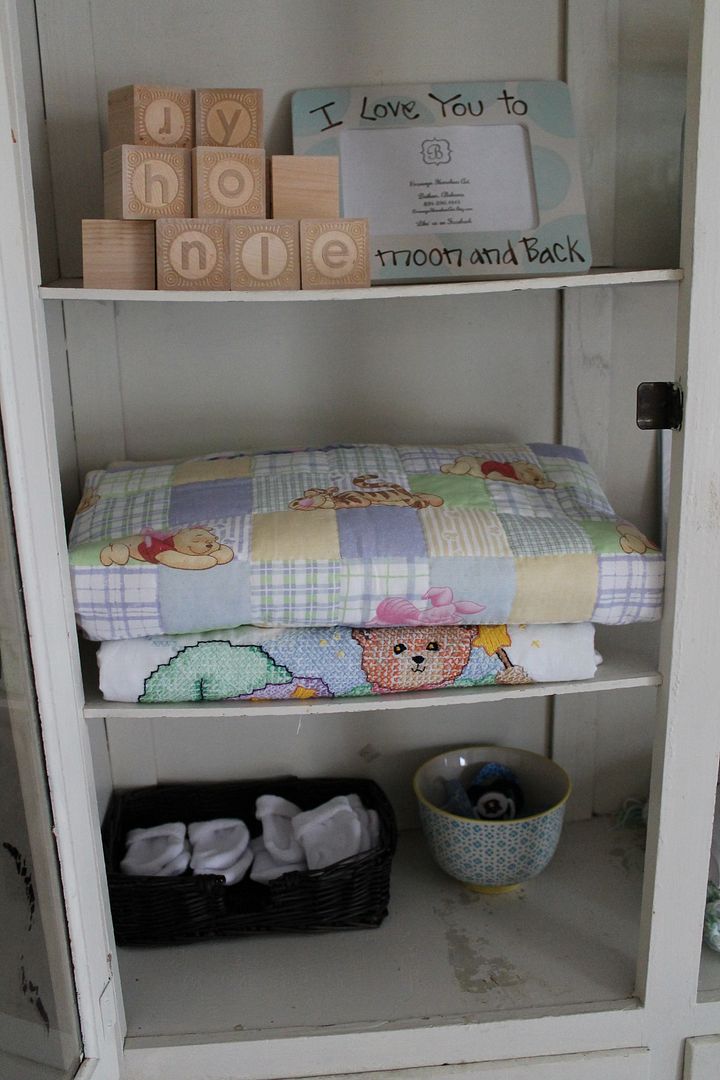 Blankets, blocks, baskets full of socks. Bowls for pacis and rocking chair rocks. (started rhyming and just went with it.)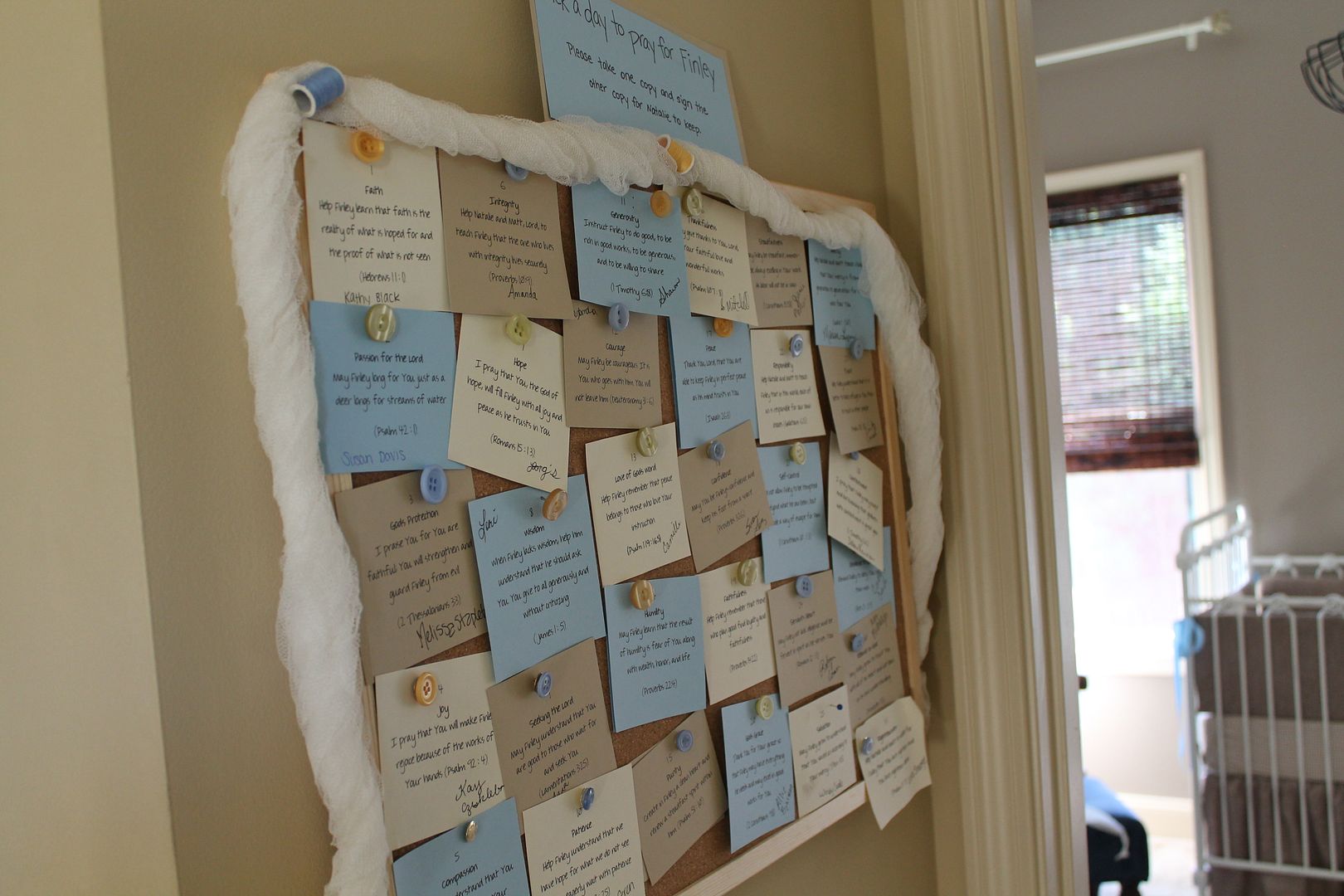 Our little prayer calendar from my shower hangs right outside the nursery door.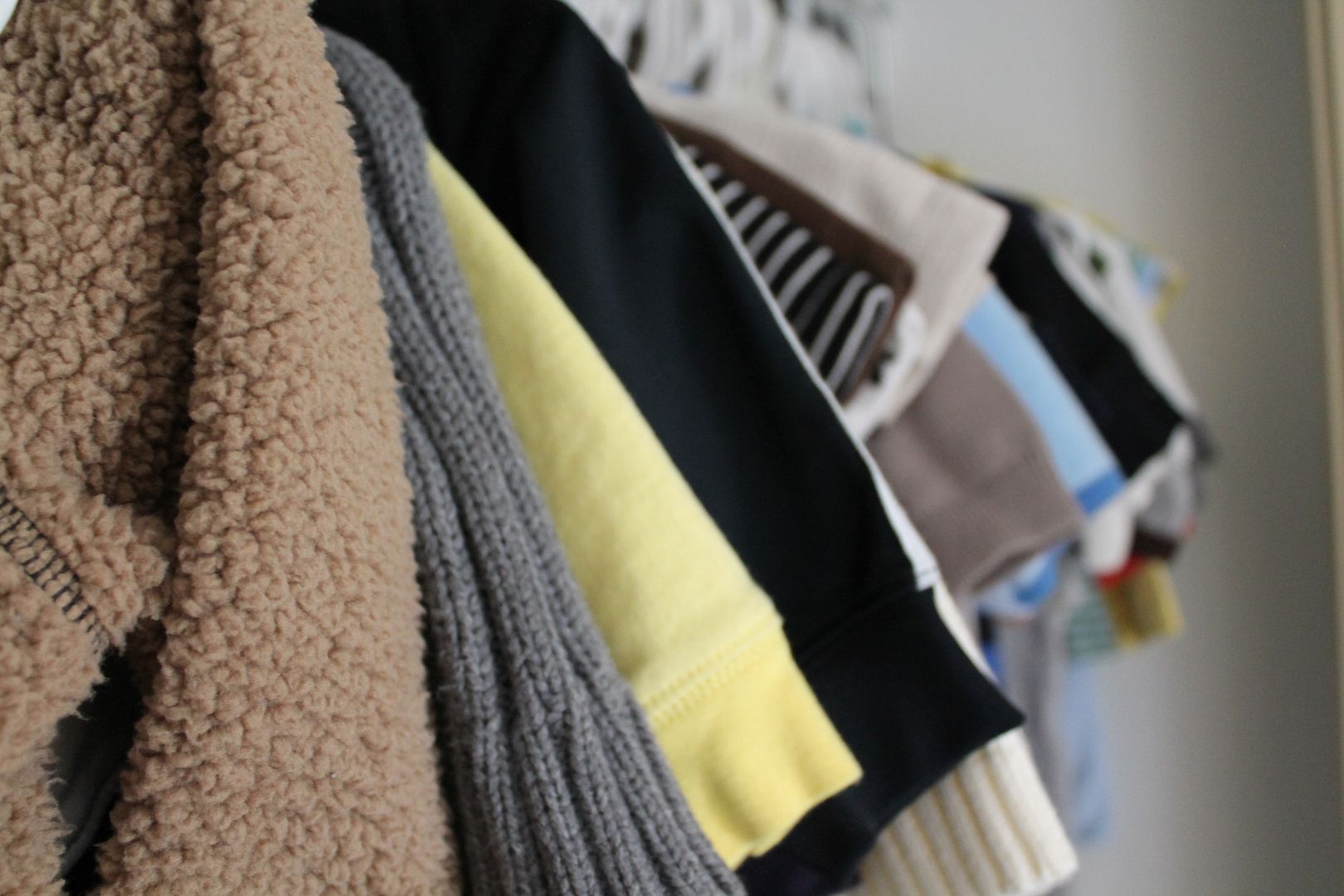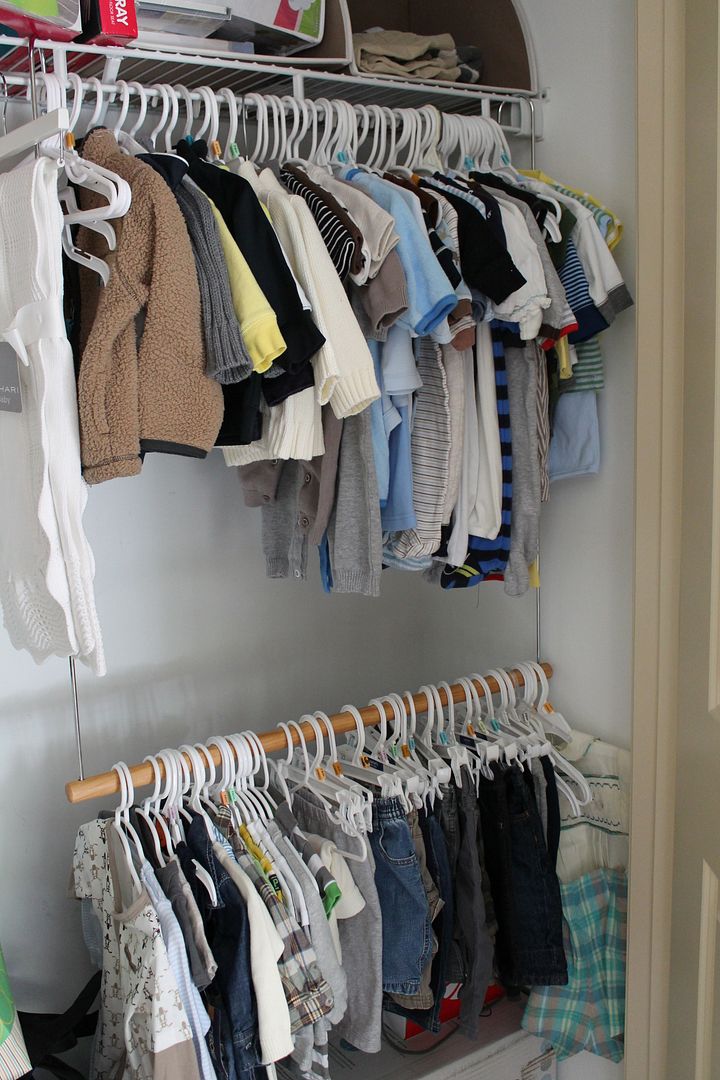 Just had to snap a few photos of this little guy's closet. This is just 0-6m!! He has so many clothes! That's what happens when you work for OshKosh! Hope he loves fashion like his mom!
Tweet